SUN-HERALD, February 15, 2009

LARRIKIN HERO'S TASTE FOR TROUBLE

Winsor Dobbin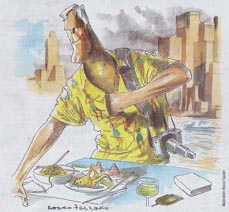 Australia has it's own James Bond in irreverent Alby Murdoch, an ace international photographer who also doubles as a secret agent for the Australian secret service (the DED).
space
Author Geoff McGeachin, whose hugely funny debut novel, Fat, Fifty & F***ed! Was a major success when published in 2004, is on familiar ground in this, the third in what looks likely to be a long series of novels featuring Murdoch, the worldly wise but trouble-prone snapper whose world involves all manner of bad guys and gorgeous gals.
space
Casino crime lords, bent American politicians and grudge-holding killers for hire are just some of Alby's problems as he cavorts from Saigon, Hong Kong and Macau to outback Australia, where he has to thwart an evil plot that would end the seafood trade and render Australian beaches unsafe.
space
Along the way, Alby bumps into an Australian army legend who is supposed to have died in the Vietnam War, the bootylicious (and extremely dangerous) TV chef Jezebel Quick, mysterious (and extremely dangerous) Vietnamese policewoman Nhu Hoang and a very accommodating air hostess.
space
Alby is a magnet for both beautiful women and trouble by the bucketload, which makes this a most enjoyable romp that can probably be devoured during one long day by the pool. It's a comic book for adults.
space
McGeachin's writing style is somewhere between Robert G. Barrett (without the grotesque violence) and Ian Fleming. Throw in a soupcon of Kathy Lette and even a twist of Lindey Milan. This is not a novel for taking seriously; it's a paperback for enjoying on a day off, a literary VB rather than a Puligny Montrachet.
space
As in his previous books, McGeachin gets the Australian idiom and sense of humour just right – and he's a sharp observer of the zeitgeist – not surprising for someone whose photographic career has taken him from Melbourne to Los Angeles, New York and Hong Kong, and who now lives in Bondi.
space
McGeachin has his finger firmly on the local pulse with a lovely sense of the absurd. Oversexed chef Jezebel Quick checks into a hotel as Barbara Ganoush, while he's spot on with his descriptions of the Foreign Correspondents' Club in Hong Kong: "started in the 1950s as a meeting place for journalists … it describes itself as a social, cultural and intellectual melting pot with no rival in Asia. While this is probably true, everyone I know goes for the booze and the bullshit and to see who is hanging out in the main bar."
space
McGeachin is also a gourmet, with a love of Asian food. Hence the action occasionally stops for Alby to enjoy a fine meal, lovingly described, before he is again shot at or kidnapped.
space
In Hong Kong he samples dan dan mein, "a thick and amazingly flavoured broth – sweet, sour, salty, spicy, smoky – with hints of dried shrimp, fermented bean paste, chilli, shallots and garlic, and wonderfully textured hand-made noodles capped with wok-fried minced pork and crushed peanuts."
space
I was ready to head to Chinatown after reading that paragraph alone.
space
Alby is less lucky in Darwin, however, and his description of an Australian theme restaurant aimed at gullible tourists rings all too true, particularly the menu offering of "salt and chilli battered octopus testicles".
space
Alby is quick with a quip, decidedly un-PC and engagingly intolerant.
space
In Laos, he says, "Maintaining a low profile also meant suppressing the urge to stick my balisong (butterfly knife) into the kneecap of every pissy backpacker who complained about the overcrowding and the heat. Give me screaming over whining any day. It made me think of my late colleague, Harry, who used to snarl, 'If you can't stand the heat, stay out of the tropics. ' He generally added, 'dipshit',"
space
Given our hero's speed with a quip, he's popular with the ladies. In Macau, he spends a night with a particularly engaging and nubile companion at a luxury resort with all the bells and whistles and reports: "If things got too much for a bloke you simply pressed nine on the phone on the bedside table for a paramedic with a defibrillator."
space
Dead and Kicking is fast, irreverent, sometimes downright stupid but it's a rollicking read nonetheless.